17 Jan

Steve Ilg: Athlete as spiritual warrior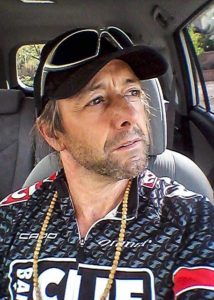 He's not an ordinary athlete. When Outside magazine featured Steve Ilg on their cover in May of 1992 he became both famous and infamous. The cover, as Ilg laughingly admits, was later voted by readers as one of Outside magazine's least favorites. Maybe it was the finely coiffed mullet he sported or the cover's brash title, claiming he could break you. Maybe it was the unsettling look of serene confidence on his face.
Moving past the cover I read about a sports polymath, a multi-sport mutant according to another article. Ilg was extraordinary at a number of pursuits from running to biking to climbing to a multitude of winter sports. But what truly intrigued me was that he preached with an uncommon passion a lifestyle that rejected sport specialization.
At the time I was training for my first triathlon and had found a new level of fitness by combining biking and swimming with my love for running. Combining the sports I felt not only stronger in each but more durable and healthier than ever.
Ilg though was preaching for a life that went beyond cross-training. He believed and is now even more adamant that sport is a noble and even spiritual endeavor through which we can more fully experience life as a whole. His ideas of Wholistic Fitness combined sport disciplines, yang endeavors he calls them, with the yin of meditation and yoga.
I was so intrigued by this approach that I interviewed him for a regional magazine. Some 25 years later we reconnected for this podcast.
Ilg at 55 is no less strong. Last winter, from his home in Durango, Colorado he raced in events ranging from 5K to 50k. He competed in snowshoeing, ski mountaineering, fat tire bike and winter decathlons. Remarkably, he made it to the podium of every race he entered. Incredibly, he won seven events outright.
He, maybe with just of touch of irony, often refers to himself as "Feeble Ilg" and he does project humility and gratitude for what life has brought. Yet he's also fiercely competitive and embodies what he calls the athlete's warrior spirit.
I hope you enjoy this conversation as much as I did. Your comments, as always, are very much appreciated.
Resources:
Total Body Transformation: A 3-Month Personal Fitness Prescription For a Strong, Lean Body and a Calmer Mind
The Winter Athlete: Secrets of Wholistic Fitness for Outdoor Performance
The Outdoor Athlete: Total Training for Outdoor Performance
Health Mark IVO18110 Yogacise 2-In-1 Yoga and Exercise Bench
Steve's website: Wholistic Fitness: Fitness as a spiritual practice
Show Notes:
How as we age our focus changes from yang to yin
To be athletic is to be supple and strong, enduring and capable
The addiction to comfort: how it severs our connection to wholeness
Everything is training, even brushing your teeth
The 5 Noble Fitness Disciplines
The 4 Lifestyle Principles
The athlete as warrior
If you are not feeling the yin you may not be training hard enough
No easy days: every day is challenging but in a different way
Racing Iron Horse Bicycle Classic, from Durango to Silverton and beyond
The importance of morning rituals. Poop early
You are only as young as your spine
Holy hunger… why its good to be hungry
Don't eat fearfully, eat sacredly
Shifting to pranic nutrition
Ilg's new book